HETALOCK




Englock, as drawn by South.

Where
Skype
South's Stream
When
All the time!
Who
Awesome people!
The Hetalockians are the Hetalians who are simultaneously in the Sherlock fandom. Mostly started due to South's livestreams, and our name itself became used because of South.
A LOT OF THINGS ARE BECAUSE OF SOUTH.
Being in two fandoms at once, especially ones so drastically different, can be a difficult task, but the Hetalockians somehow manage it easily.
Cultivating a growing obsession for a certain fictional Detective, one day Acrossai had observed a few people mentioning his name regarding the recent new television series that had just aired its second series in the UK.
WIP WIP WIP
Early Days
Edit
MORE INFORMATION TO COME.
Where are we?
Edit
MORE INFORMATION TO COME.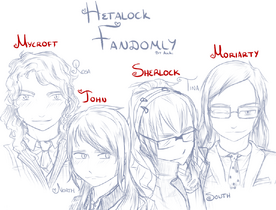 The Original England Crossover Pairings
Edit
Names spontaniously dropped from Acrossai's brain into a Skype chat once-upon-a-time that are used by the HETALOCK Fandomly.
Englock - Sherlock
Johnthur (Jawnthur) - John
Engstrade - Lestrade
Myarthur - Mycroft
Mori-Arty - Moriarty
Mollart - Molly
Engrene - Irene
(Disclaimer: No claim to original name rights. Pretty obvious names, it was simply the first thing that was said.)
Hetalockians
Edit