A collection of all the Trainer Cards of the Pokemon AU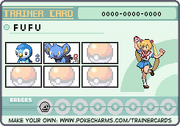 Name: Fufu
Position: Rookie Trainer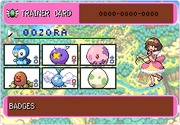 Name: Oozora-chan
Position: Rookie Trainer

Name: Kirby
Position: Intermediate Trainer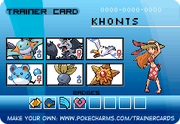 Name: Khonts
Position: Intermediate Trainer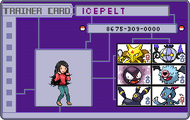 Name: Icepelt
Position: Intermediate Trainer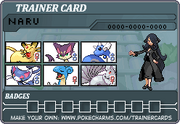 Name: Naru
Position: Expert Trainer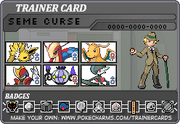 Name: Seme (Mother Fucking) Curse
Position: Expert Trainer

Name: Shiny
Position: Expert Trainer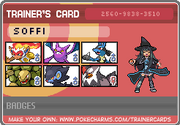 Name: Soffi
Position: Expert Trainer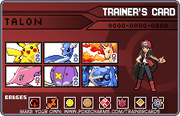 Name: Talon
Position: Expert Trainer
Miscellaneous
Edit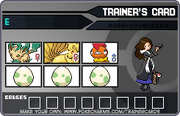 Name: E
Position: Pokémon Breeder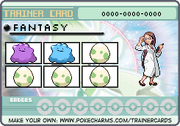 Name: Fantasy
Position: Pokemon Day Care Lady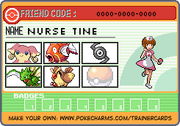 Name: Tine
Position: Pokemon Centre Nurse
Gym Leaders
Edit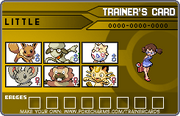 Name: Little
Position: Gym Leader
Speciality: Normal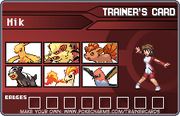 Name: Mik
Position: Gym Leader
Speciality: Fire

Name: Midori
Position: Gym Leader
Speciality: Ice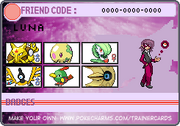 Name: Luna
Position: Gym Leader
Speciality: Psychic

Name: Panda
Position: Gym Leader
Specialty: Electric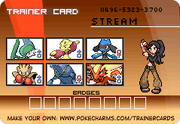 Name: Stream
Position: Gym Leader
Specialty: Fighting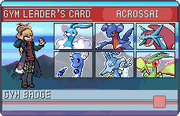 Name: Acrossai
Position: Gym Leader
Specialty: Dragon
Elite Four and Champion
Edit

Name: Kulta
Position: Elite Four Member 1
Speciality: Psychic

Name: Cure
Position: Elite Four Member 2
Speciality: Grass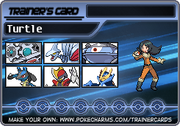 Name:
Turtle
Position: Elite Four Member 3
Specialty: Steel

Name: Tina
Position: Elite Four Member 4 / Team Alpaca Second in Command
Specialty: Poison

Name: Miss Captcha
Position: Champion
Team Alpaca
Edit
Frontier Brains
Edit
Name: Ven
Position: Tower Tycoon

Name: Treyen
Position: Pyramid Queen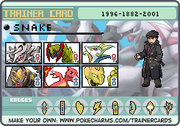 Name: Snake
Position:
Ad blocker interference detected!
Wikia is a free-to-use site that makes money from advertising. We have a modified experience for viewers using ad blockers

Wikia is not accessible if you've made further modifications. Remove the custom ad blocker rule(s) and the page will load as expected.