The Fandomly Pokemon Mystery Dungeon AU
Edit
An AU where all the Fandomly members are all Pokemon, grouped into teams and guilds to fulfill their daily missions as their job.
How did this come about?
Edit
It was suggested by a few Fandomly members around the Comm for quite awhile until Ven decided to bring it up.
General Rules
Edit
No legendary Pokemon
Each team will be made up of either two or three members. Can be picked.
The Fandomly (Main Guild)Edit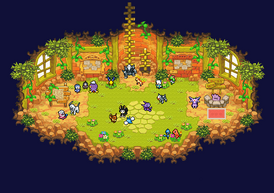 Leaders/Head roles of the guild
Teams
Members that have not found a team yet
Shopkeepers in the main townEdit
Ad blocker interference detected!
Wikia is a free-to-use site that makes money from advertising. We have a modified experience for viewers using ad blockers

Wikia is not accessible if you've made further modifications. Remove the custom ad blocker rule(s) and the page will load as expected.